It's safe to say we all love a classic American hamburger. The juicy meat, the pillowy and crispy bun, the perfect amount of smoke and fat. You can dress it up with creative ingredients and sauces, or keep it simple. With seemingly endless toppings, it's easy to customize and please even the pickiest of eaters.
Just when you thought burgers couldn't get better, picture this: a hamburger with jamón ibérico.
USA meets Spain
In Spain, jamón iberico is the ultimate crowd pleaser. It's got that refined balance of healthy oleic fat and umami saltiness that makes every jamón ibérico-centered dish shine. You can keep it simple and eat it on its own, or dress up dishes with Spanish elegance. Everyone loves jamón ibérico. With two easy-to-please emblems of gastronomy and culture, it only makes sense to bring the two together with a jamón ibérico hamburger.
Hamburgers in Spain
You may think burgers are only found stateside. But take a trip to Spain and you'll find modern burger shops all over the country cooking up patties and adding their spin. They're taking the best of both worlds and putting them together for the ultimate decadence. You'll see traditional American styles with the addition of slices of jamón ibérico on top, and burgers using all sorts of Spanish sauces and toppings to show off the local cuisine. Call it fusion or call it union, it's a bold expression of deliciousness.
How to use Jamón Ibérico with Hamburgers
Jamón ibérico is a wonder on hamburgers. To execute, you'll want to follow these three easy steps:
If slicing the jamón from the leg, make sure to slice it as thin as possible. That will make it easier to bite into the burger and get all the flavors and textures at once.
Give it time to come up to temperature. This is particularly important if you're using pre-cut jamón and storing it in the fridge. You should take the package out half an hour before you're ready to eat and open it to aerate the slices.
Don't cook it. This isn't cheese we're talking about, so no need to melt the jamón onto the burgers as they cook. Once the burgers are done, simply place the slices on top of the meat and build your hamburger.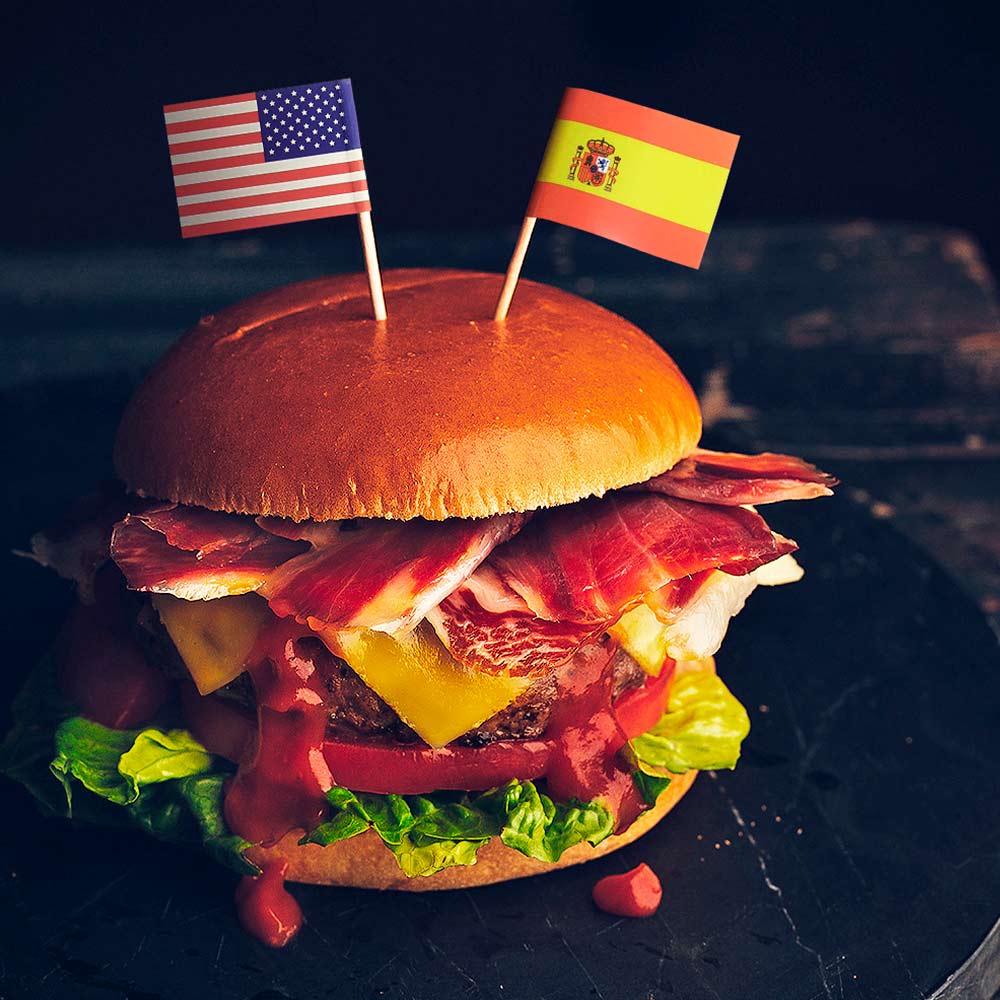 Build Your Jamón Ibérico Hamburger Combinations
The great thing about jamón ibérico is it pairs well with anything from strong cheeses to light vegetables. It's hard to go wrong. That being said, jamón ibérico is a high-quality product and deserves to be treated with respect. So why not use toppings that have also been treated with the same respect? Here are some tips on how to respectfully build your jamón ibérico burger from bun to bun.
The meat
Use high-quality meat when it comes to the patty. Grass-fed ground beef is always a winner, or use a combo of beef and pork for a little more fat and flavor.
Want to really go all out? In Spain, they take advantage of those thicker pieces from the hard to reach parts of the jamón leg, finely chop them, and use them in all kinds of dishes like croquettes or soups. Mix some of those juicy ham bits into your patty and completely elevate your burger to full-on ibérico level.
The bun
We love the sweetness and extra richness from a buttery brioche bun. But you can work with any bun you're into: the soft classic sesame bun, a potato bun, or something with a crispier outside for contrast. Try buttering the insides and toasting it up on the grill before serving, so you can really warm up those jamón ibérico slices you're laying on top.
The cheese
Go with a strong aged cheese like cured Spanish Manchego, Basque Idiazabal, or even parmesan. Or use a good melty cheese like French camembert or Spanish tetilla, or Spanish goat cheeses like garrotxa and rulo de cabra. Even a swipe of cream cheese is excellent. Play with the flavors and see what you like best with your jamón ibérico hamburger.
The toppings
In Spain, jamón is often paired with artichokes, mushrooms, and even eggplant. So try a few marinated artichokes, sautéd mushrooms, or slices of fried eggplant on your jamón ibérico hamburger. Lay on some piquillo peppers, crispy onions, or even a fried egg. And to get your greens, we love fresh arugula dressed with extra-virgin olive oil.
The sauces
Aioli is king in Spain, so mix up your own aioli or mayo and give your burger a lift. Instead of ketchup, try using a drizzle of sherry or balsamic vinegar for sweetness. Blitz up a savory romesco sauce. Or even add foie gras for insane gourmet richness.
Our favorite jamón ibérico hamburger combos
It's hard to go wrong, but we love some of these Spanish-inspired hamburger pairings. All with jamón ibérico, of course.
garrotxa cheese + sautéed mushrooms + romesco + jamón ibérico
piquillo peppers + arugula + aioli + jamón ibérico
foie gras + crispy onions + balsamic reduction + jamón ibérico
fried eggplant + sherry vinegar reduction + jamón ibérico
parmesan + artichokes + aioli + jamón ibérico
manchego cheese + arugula + fried egg + heirloom tomato + jamón ibérico
roasted green pepper + tomato + aioli + jamón ibérico
Elevate your french fries
If jamón ibérico with hamburgers isn't your thing, jamón and french fries will be. Fried potatoes and jamón is a Spanish classic pairing. Dive into your favorite style of hamburger and amp up your fries by laying slices of jamón over them just after frying. You may never go back to regular french fries again.
Gather Around with Jamón Ibérico
If you've ever had a great Spanish meal, you know the best way to start it off is with a plate of jamón ibérico. Grilling out hamburgers for a backyard barbecue? Ditch the chips and dip and start off your barbecue with a plate of Spanish jamón. It's the perfect way to keep people busy, filled, and chatting while those burgers are sizzling away on the grill.
Jamón ibérico is about being together—it's a communal food better enjoyed with people you love. So get everyone together, fire up the grill, and slice off some jamón ibérico for a taste of the ideal Spanish-American union.