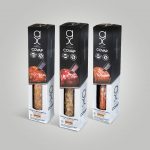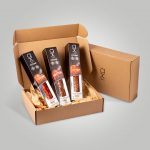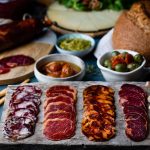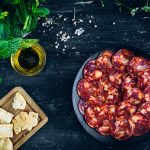 Packs, Whole Cured Meats
Premium Trio Box: Loin Bellota + Chorizo + Salchichón
1 Lomo (1.1lb) + 1 Chorizo (1lb) + 1 Salchichón (1lb)
The package contains:
1 Loin Acorn-fed Ibérico (1lb)
1 Chorizo Acorn-fed Ibérico (1lb)
1 Salchichón Acorn-fed Ibérico (1lb)
Good Moments always have a special flavor. The flavor that we all like to share.
See more
Highlights

Breed

100% Ibérico Pork Free Range
In Spain Iberico pork means tradition, family, friends and reunion. This is why we are offering a selection of wonderful acorn-fed Ibérico pork products in the perfect size to be shared, so that you and your loved ones can enjoy all these delicacies.
These 3 exclusive Ibérico pork products offer balanced aromas, intense flavors, extremely juicy meat, and the marbled fat texture characteristic of premium-quality 100% Ibérico pork products.
Our Alta Expresión Ibérico Pork Product Pack offers you a selection of the best cured meat: Dry-cured Acorn-fed Ibérico Loin, Dry-cured Acorn-fed Ibérico Chorizo, Dry-cured Acorn-fed Ibérico Salami
All our Alta Expresión products comes from an exceptional animal: 100% Ibérico Breed Pigs. Raised free-range on our pastures, with a diet based on acorns and natural grasses, they offer an exquisite meat with an unparalleled texture and flavor, which result in a truly sublime product.
Shipping & Returns
Free shipping on all orders over $49. Smaller orders have a $10 flat rate.
At COVAP we are committed to your satisfaction so we'll do our best to ship your order as soon as possible. Please allow 24 to 48 hours of processing time.  If possible, your order will be shipped the same day, but most likely it will be shipped on the next business day. Once the order is processed you will receive an email with the shipping confirmation and tracking number.
Your order will be shipped using an express service (USPS 3 days or FedEx Express). Once shipped it takes about 3 business days for an order to be delivered, however, due to COVID-19 pandemic delivery services are experiencing some delays so please take it in consideration and plan accordingly. COVAP will not be responsible for third party operations.
Return & Refunds
We have a "no questions asked return and refund policy" which entitles you to return the product within 30 days from delivery date if due to some reason you are not satisfied with the quality or freshness of the product. To initiate a return, kindly contact our support team for a pre-paid return shipping label. We will send you a return label to help you process your return.
Refunds will be issued to the original form of payment.