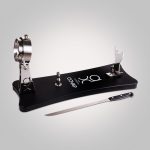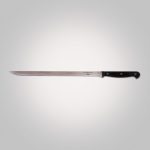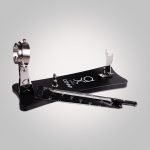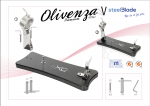 Whole Hams
Professional Iberico Kit – Ham Holder + Knife
Ham Holder with swivel clamping head and suction cup + professional Ham Knife
Enjoy the art of carving Iberico Ham with this ultimate kit. The pack contains a designer Ham Holder and a Ham Knife for professional work. Especially light Ham Holder with a great support at the ends and optimized with a central suction cup.
See more
The professional ham holder is made from ice-tempered German stainless steel with polyethylene plastic in the base, making it very light. It also has a sucker system that keeps it completely immobile while you are cutting the ham. The clamping head is movable to aid in the positioning and handling of the piece while carving.
The professional knife has a sub-zero tempered German steel blade and a polyoxymethylene handle, which gives it the robustness needed to slice this gastronomy jewel perfectly.
Professional ham holder and knife are the same ones used by master carvers and professionals alike, these will make your carving easier and as well as enjoyable!
—
Unit weight: 9.2 lb
Product dimensions:
Base:
Length: 21.7"
Width: 7.7"
Thickness: 1.2"
Material: Polyethylene
Arm:
High: 10.6" cm with the head
Material: Stainless Steel
Giratory sistem 360º, ø 8 cm. Stainless Steel
Shipping & Returns
Free shipping on all orders over $49. Smaller orders have a $10 flat rate.
At COVAP we are committed to your satisfaction so we'll do our best to ship your order as soon as possible. Please allow 24 to 48 hours of processing time.  If possible, your order will be shipped the same day, but most likely it will be shipped on the next business day. Once the order is processed you will receive an email with the shipping confirmation and tracking number.
Your order will be shipped using an express service (USPS 3 days or FedEx Express). Once shipped it takes about 3 business days for an order to be delivered, however, due to COVID-19 pandemic delivery services are experiencing some delays so please take it in consideration and plan accordingly. COVAP will not be responsible for third party operations.
Return & Refunds
We have a "no questions asked return and refund policy" which entitles you to return the product within 30 days from delivery date if due to some reason you are not satisfied with the quality or freshness of the product. To initiate a return, kindly contact our support team for a pre-paid return shipping label. We will send you a return label to help you process your return.
Refunds will be issued to the original form of payment.