Ibéricos COVAP is taking you on a trip, and you don't even have to leave home to enjoy the culture, history, art, and cuisine of our country. Would you like to travel with us?
Córdoba, the city of the Caliphate
Light on luggage and eager to embark on this first adventure, let's travel to the city of the Caliphates. We'll take our time and allow ourselves to get lost amidst its narrow streets and the stillness of its whitewashed walls. We encourage all our 100% Ibérico foodies to spend a day with us in Córdoba via your computer screen, with no need to get up from your sofa.
The main purpose of our trip is to allow you to experience the Fiesta of the Patios, declared Intangible Cultural Heritage of Humanity, which this year opened itself to the world with immersive videos. This initiative, organized by the City Hall, offered 27 virtual walks, one in each patio divided into four routes. This is a unique time to venture into these wonderful private patios, guided by their own caretakers, and to enjoy the essence of Córdoba.
We definitely deserve a good breakfast as we visit the patios. Before turning on your screen, prepare a glass of freshly-squeezed orange juice, a coffee with COVAP whole milk, and toast with extra-virgin olive oil and COVAP Alta Expresión de los Pedroches Dry-cured Acorn-fed 100% Ibérico Pork Ham.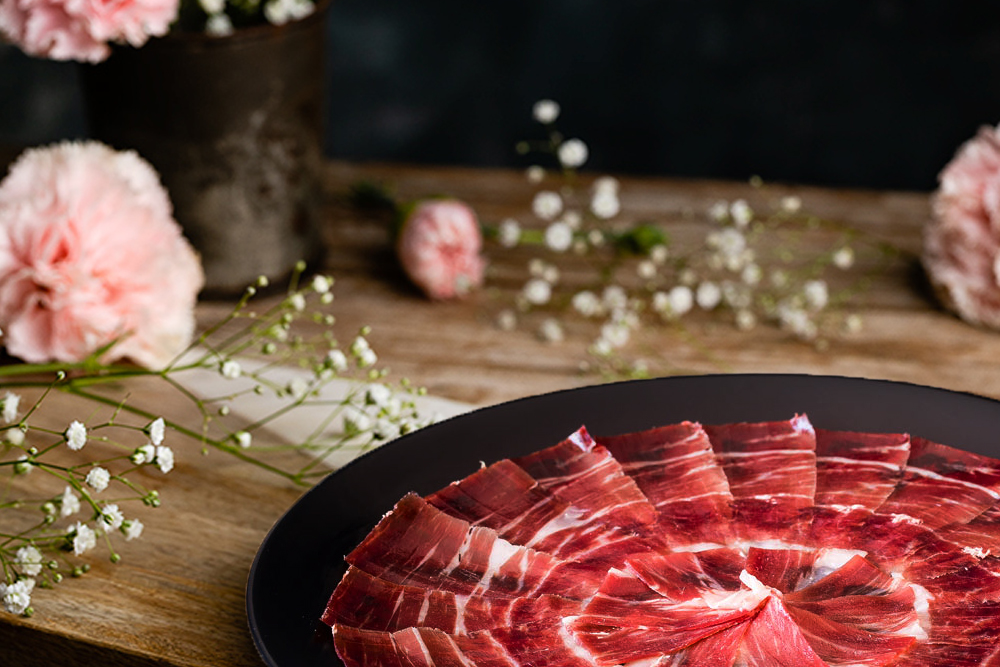 Córdoba, Human Heritage
With your batteries recharged, let's make the most of the city! One must-see is the Mosque-Cathedral of Córdoba, the soul of the city thanks to its beauty and history. You can take a walk through it via the monument's website, which contains interactive maps that reflect the building's architectural evolution and provide information on each of its spaces and the masterpieces it harbors. Awestruck by its magnificence, you may want to have a snack in the streets of the Jewish quarter, or at least feel like we're enjoying Ibérico sausage products accompanied by a glass of the fino wine typical of the city, like Montilla-Moriles.
In the afternoon, without leaving your kitchen, why don't you prepare a lunch which should include a delicious cold salmorejo tomato-and-bread soup from Cordoba sprinkled with tiny-diced dry-cured acorn-fed 100% Ibérico pork ham and traditional pork-and-ham rolls, or flamenquines, a menu worthy of being served at one of the taverns around the famous Tendillas and Corredera Squares, and then head down to Potro Square, where the Julio Romero de Torres Museum and the Fine Arts Museum have opened their virtual doors.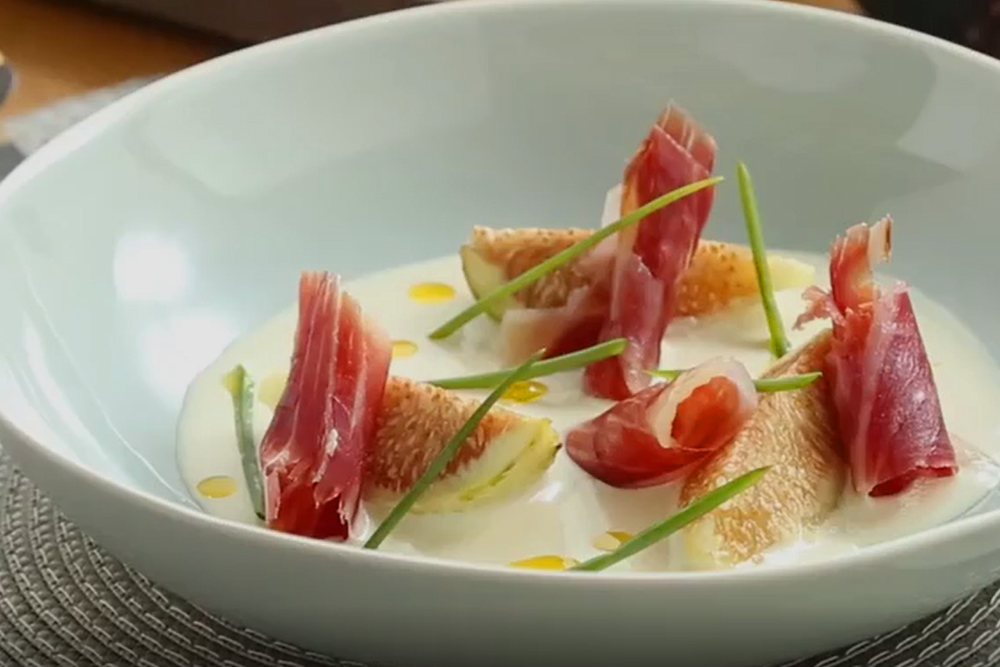 And to conclude this getaway to Córdoba, what about a dinner where you can put all the culinary talents you've learned these days into practice? How about offering the most passionate foodie ajoblanco, a cold bread, almond, and garlic soup, served with figs and dry-cured acorn-fed 100% Ibérico pork ham, as suggested in the Cocina de la dehesa blog? It's a recipe worth of the emerging chefs cropping up in the city of Córdoba. So it's time to go with the most delightful aftertaste lingering in our mouths in the hopes that we can soon sit on the Roman Bridge and enjoy a star-filled night with views of the Guadalquivir River.