If you love to travel and explore new countries and cultures through the local cuisine, then you're what we call an authentic 100% Ibérico foodie. That's why our Ibéricos COVAP blog has the perfect plan for you: a virtual foodie trip around the world…this time to Italy!
These are experiences that immerse us in the culinary world of each country— helping us understand their food culture and reinventing the most typical dishes using our best 100% Ibérico products. We're discovering the best recipes from new places and adding a little Spanish riff to keep it totally Ibérico.
Ready to travel the world through your taste buds? Then let's take off!
One of the Great Mediterranean Cuisines
We're starting off in the land of emperors and gladiators; renaissance artists like Michaelangelo and great writers like Boccacio. We are, of course, talking about Italy. Italian gastronomy has roots in various cultures around the world, with influences from Greece, Germany, and both Asian and African countries.
The Spanish journeys to the Americas were important for Italian gastronomy as well. It wasn't until 1492 that the tomato was brought to Europe, and it has now become an essential ingredient for every Italian chef and home cook. But this isn't the only unique union between the "boot of Europe" and Spain. Both countries have similar foundational ingredients in their cuisine, like olive oil, grains, meats, fish, fruits, and vegetables. In other words, both Italy and Spain consider the Mediterranean diet to be a great hallmark of their culinary identity. It only makes sense to bring parts of their cuisines together.
When was the first pizza made?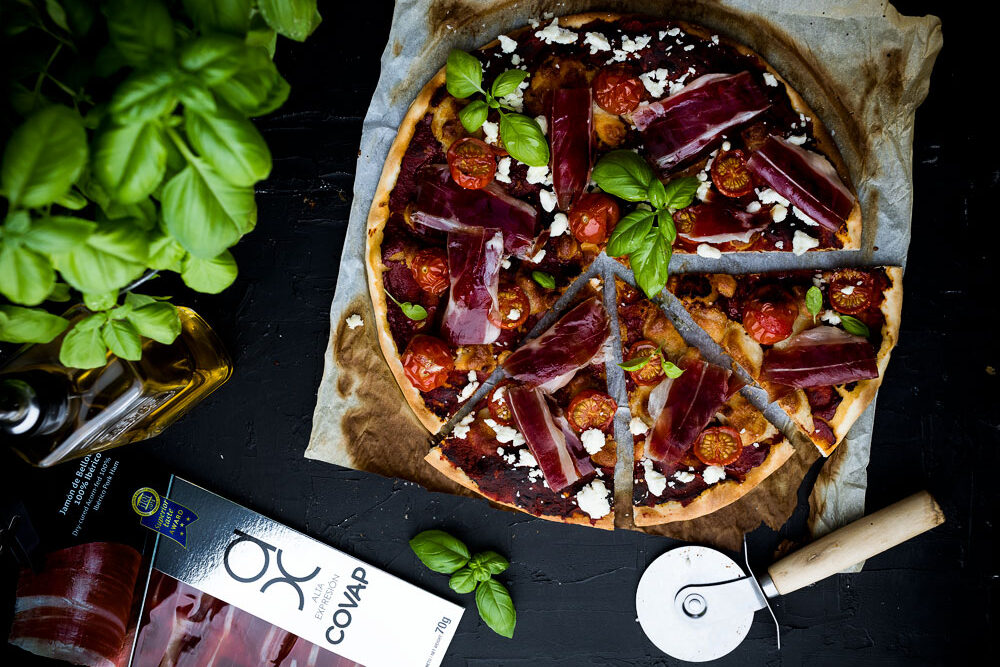 To begin our Italian culinary tour, we're starting off with the first dish that comes to mind when we hear anything about Italian food: pizza. To understand the origins of this culinary masterpiece, we have to go back to Ancient Rome. Various classical authors like Cato make references in their writings to a food that was prepared on a base of smashed bread (to make it flat) with other condiments and spices. So, can we say that the birth of pizza dates back to the Classical Era? The answer is, not entirely. This is simply because one critical ingredient— the tomato— still had yet to be incorporated into pizza at the time. Like we mentioned before, the tomato didn't arrive in Italy until the 15th century.
Now that we understand some basic facts and a bit of history about this famous Italian preparation, it's time to create our own. Our Spanish-Italian invention? A pizza with Alta Expresión Acorn-Fed 100% Ibérico Ham, cherry tomatoes, and buffalo mozzarella. When it comes time to prepare it, we recommend drizzling a Tablespoon of Spanish extra-virgin olive oil over the pizza before baking to give it a little crunch and amp up the flavors of the Acorn-Fed 100% Ibérico Ham. And to finish, sprinkle a few basil leaves on top for extra freshness. This simple recipe using quality ingredients will make you feel like a 100% Ibérico foodie— or even a lavish Italian emperor.
Spanish Influence in Italian Cuisine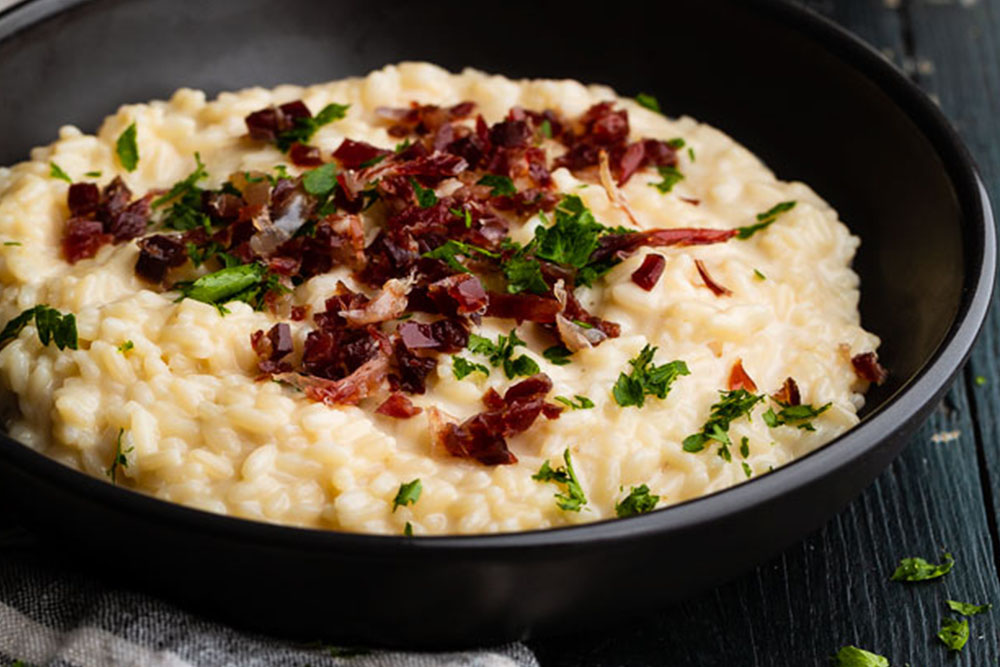 Do you know where the word "risotto" comes from? Its roots stem from the word "riso" which means "rice" in Italian. Risotto is a dish known throughout the world, but its origins can be found in the region of Lombarda, Italy. Remember how the journeys to the Americas brought tomatoes to both pizza and Italian cuisine? Well, the consumption of rice was introduced to the Italians by the Aragoneses (a group of Spaniards that today identify with the region of Aragón), who dominated the area of Naples starting at the end of the 14th century.
There are a number of styles of risotto, but we're preparing what's called a "risotto bianco," or a white risotto, without tomato or saffron. Here, the star ingredients are strips of COVAP's Alta Expresión Acorn-Fed 100% Ibérico Ham.
Risotto is surprisingly easy to make and is incredibly delicious. All you need is rice (we recommend arborio, a type of Italian rice from the Piedmont region), Alta Expresión Acorn-Fed 100% Ibérico Ham, and mushrooms. To intensify the flavor of the risotto, you can finish the dish with a pat of high-quality butter or Spanish cheeses to truly bring out the symbiosis of Lombarda and Spain.
Did Marco Polo discover pasta?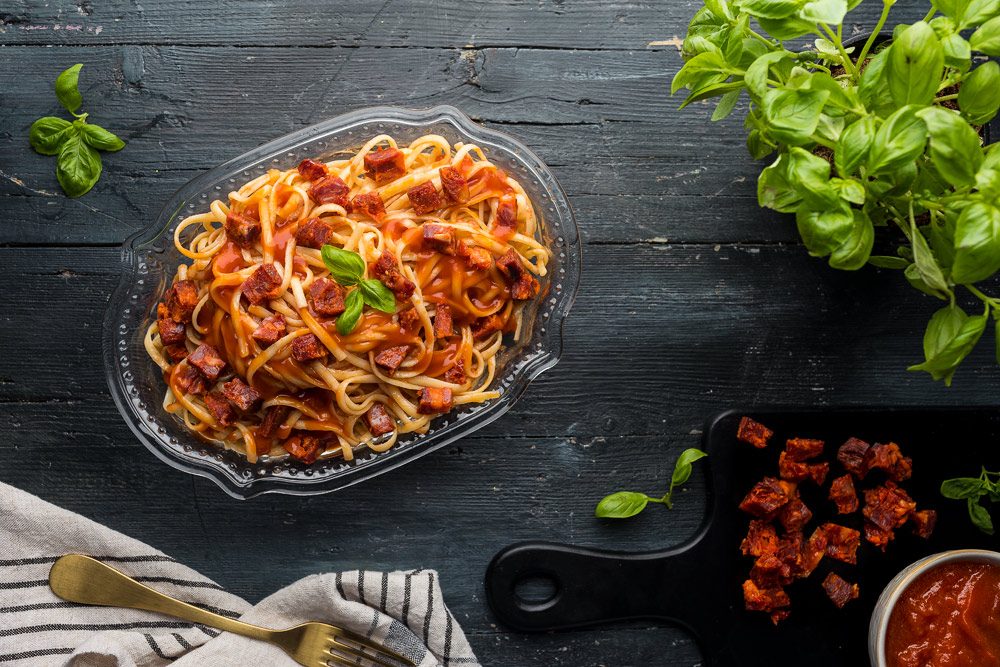 We end our culinary adventure through Italy with another one of the most well-known foods in the world: pasta. Much has been written about its origin and history. Some say that Marco Polo exported it from China in the 18th century; others say that it was the Romans who began to make pasta with wheat flour in the 3rd century B.C., under the name "lagana."
If the number or risotto recipes astounds you, the variety of traditional Italian pasta dishes is seemingly infinite. When it comes to whipping up 100% Ibérico foodie pasta, we recommend trying out pasta all'amatriciana for your next culinary adventure, using just linguine pasta (a variety of pasta from the Campania region), our Alta Expresión Acorn-Fed 100% Ibérico Chorizo, fresh tomato, basil, and extra-virgin olive oil. We also recommend topping it off with a grating of aged Spanish cheese (like Manchego), which gives it a little extra Spanish flavor and works as a perfect pairing with this classic Italian dish.
This is just the beginning of your Spanish-Italian culinary adventure. Take a look at our online shop and recipes on the blog and discover how you can transform the highest quality Ibérico ingredients into traditional Italian dishes at home.