There was a time when an immense sea of millennium-old holm oaks stretched beyond the horizon in the Valley of los Pedroches. Their bronze fruits fed a unique breed of animals: 100% Ibérico pigs. A legacy of our ancestors, transferring the character, flavor and perfect texture into each piece. A legacy that has lived on to the present day.
Today, these same millennium-old holm oaks feed the descendants of that special lineage of animals, within an ecosystem considered unique in the world: the Dehesa.
The Dehesafío Challenge is an initiative to improve the oak grove of the Valley of Los Pedroches while integrating disabled people of our region. It also aim to educate our children and the society in general on the value and importance of the unique ecosystem that surrounds us. The project has already managed to plant over 3,000 oak trees since it started in 2017.
The project is led by the PRODE foundation, which purpose is to accompany disable people in the development of a meaningful life, with the sponsorship of the Ricardo Delgado Vizcaíno Foundation (COVAP) and the Town Council of Pozoblanco.
In 2020, over 300 students from 6 schools of the Valley of Los Pedroches area, along with the PRODE Foundation workers and over 50 farmers, participated in different planting events. Despite the COVID-19, planting continued as normal, although the workshops took place virtually.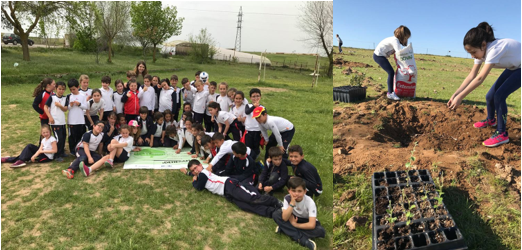 The planting of 800 holm oaks across 29 dehesa pasturelands is planned during the year 2021. It kicked off on February 24, with the presence of representatives from the sponsor entities, including the Ricardo Delgado Vizcaíno Foundation.